17/01/11
A.G.M this Saturday
The AGM of the club will be held this Saturday 22nd January at 6pm in the Clubhouse . Everyone welcome.
16/01/11
Golden Goal decides Exciting MNF Final
The lead changed hands four times in a pulsating final of the Village Inn sponsored Monday Night Football between Killala and the Untouchables. A goal by the Untouchables then made it 4-4 deep into time added on and extra time loomed. Two minutes in The Untouchables struck again and thus via the Golden Goal brought the very successful 2010 tournament to an end. See photos from the Final and presentation ….here. Deel Rovers United beat AOW to finish 3rd & 4th Lacken 5th The legends 6th , The Coastgaurd 7th and Bio Labs got the wooden spoon place. Well done to all the competing teams for such a successful tournament.
12/01/11
Award for Aileen
Killala ladies player and Republic of Ireland International Aileen Gilroy has picked up another award, this time it is the Western People Ivan Neill Young Sports Star of the Year Award. Congrats to Aileen on bring further honour to herself and the club. She will receive the award at the Western People Awards Dinner at the end of February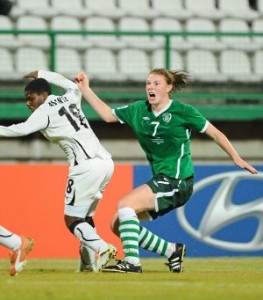 10/01/11
Final Pairing Decided
An exciting penultimate round of the Village Inn sponsored Monday Night Football tournament saw favourites The Untouchables beat AOW 7-0 to power into the final while Killala and Deel Rovers Utd played out a more tightly fought game with the Killala lads coming out on top by the odd goal in three. The Final will take place this Friday night at 9pm when The Untouchables play Killala who they beat 5-1 in the group stages , 3rd/4th place play off is at 8pm and its Deel Rovers V AOW and at 7pm The Legends play Lacken . The Coastgaurd and The Bio labs finished 7th and 8th respectively. The Presentation of the Cup and prizes will take place at 10pm in The Village Inn.