Killala AFC to compete for FAI Club of the Year at the FAI AGM on the 20th of August. (Click on Image below for more details)

16/08/10
U16 Boys win on the road
The Boys made a productive trip to Moneen home of Castlebar Town and had a good 5-3 win in the U16 league. Goals from
Mathew Keane (2) James Noone, Darragh O'Boyle & Simon Helly
brought them from 3-2c down to snatch the well deserved win.
..read more
15/08/10
Under 10 Girls bring home the medals
The U10 girls had a great day in Milebush on Saturday last at the county Blitz hosted by the Mayo Schoolboys/girls league. The played and defeated , Claremorris , Castlebar Celtic A & B and Ballina Town only loosing out to Manulla FC.
Well done Girls
!
……read more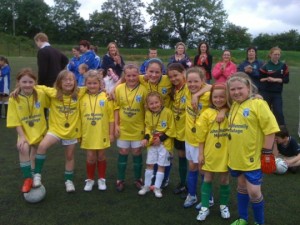 The Mens team went down 1-0 in Attymas to local side MoyVilla and saw their lead at the top of Division One cut to three points
…..read more
14/08/10
Killala Players mixing it with the Stars
It was a proud moment for the club on Wednesday last as two of our players were on the pitch in front of 50,000 at the new Aviva Stadium. Killala Under 14
Peter Lynott
was involved in the opening ceremony and paraded with
Messi & Co
before the game and
Aileen Gilroy
of the Under 17 girls team was indtroduced to the crowd at half time as a member of the Uefa U17 Cup silver medal winning team . Congrats to them both
( See pics below )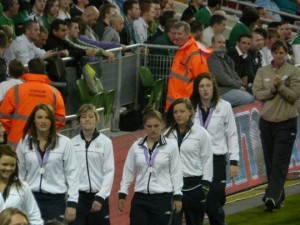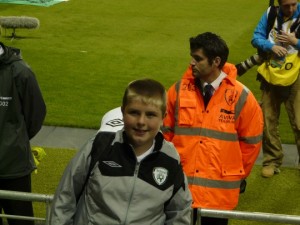 14/8/10
U13 Boys Winning Streak Continues
Killala U-13 entertained Snugboro United this evening and it was allways going to be a close affair seeing as 3 weeks ago Killala emerged Victorious at Snugboro in a narrow 4-3 win.
As the old saying goes football is definately a game of 2 half's with very little seperating the 2 sides after the first 35 minutes and only for some fine defending by both sides both teams going in scoreless at half time.
……..read more
13/8/10
Killala have the Edge
Killala AFC success on and off the field this season was reafirmed today with the news that the Club has captured the prestigious Midwest Radio's
The Edge Award for the best broacast live sporting moment from July this year. The moment captured was a live interview with Club Secretary & ladies team coach Peter McDonnell as the Killala Ladies competed in San Mario last month. Well Done to Peter and all the team on a very succesful tour and helping to add another accolade to the clubs ongoing success.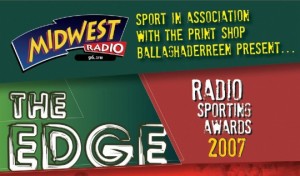 This Weeks Jackpot is €5600 . Team H are on selling duty this weekend.
Friday 13th U13 Boys V Snugboro Utd Home 7.00pm Ko
Saturday 14th U10 Girls Blitz in Milebush Park
Sunday 15th Mens Team V Moy Villa Away 2.30pm KO
Monday 16th U16 Boys V Castlebar Town Away 7pm KO Bus Leaves 5.45pm