08/08/10
Rory bags his 21st!
Four goals from Killala Marksman
Rory Gallagher
brought his total to 21 for the season and kept his team on track for honours.
Marc McDonnell, Alan Murphy, Martin McLouglin & Brendan Ryan
also scored as Killala beat Inver Utd 8-1 to stay top of Div 1.
…read more
07/08/10
Champions Again!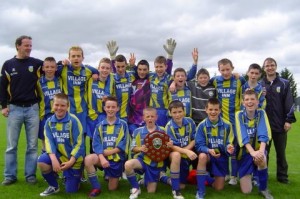 The U14 Boys retained thier crown at Milebush Park today when they defeated Ballina Town B in the play off for the division 3 crown.
Ciaran Lally equalised and Kevin Healy
struck the winner as the young Killala lads came out on top in a 2-1 scoreline.
…read more
U14 Boys hoping to Make it 3rd time lucky
The U14 Boys travel to Milebush Park on Saturday for the U14 Div.3 playoff final against Ballina Town B. A tough battle is expected if league form is to go by as both teams finished their campaign on 29points with only one loss each for the season. It finished 1-1 in Killala and 2-1 to Killala in Beleek when the sides met so a cracker of a game is on the cards. Aidan & Anto will be hoping it is third time lucky for a Killala team at headquarters as the Mens & U12 Girls teams have lost their in finals in recent weeks. Come out and support the boys on Saturday, they deserve it. We wish them luck, Bring home the Cup Boys!
Saturday 7th August U14 Boys Killala V Ballina Town B Milebush Park 2pm KO
Saturday 7th August Mens team V Inver Utd Home 7pm KO
Monday 9th August U16 Boys Home V Ballina Town 7pm KO
Wed 11th August U13 Boys Home V Castlebar Town 7pm KO
03/08/10
1st Prize Ireland V Argentina James Adams, Castlereagh , Killala
2nd Prize Airtricity League XI V Man. Utd Tony Haran, Woodview Court , Killala
3rd Prize Ireland V Russia , Danno Bourke Meelick, Killala
4th Prize Ireland V Andorra Derrick Robinson, Meelick ,Killala
5th Prize Ireland Friendly ( Nov. 2010 ) Declan Sweeney, Knockanderry , Killala
6th Prize Ireland V N.Ireland Brian Golden, Kilroe, Killala
7th Prize Scotland V Wales ( Celtic Cup ) John Gorman, Leadymore, Killala
Killala FC would like to thank eveyone who subscribed to this successfull fundraiser.