04/07/10
Brave Killala Girls just miss out
A brave secondhalf fightback by Killala U12 Girls in the Cup Final today at Milebush Park was just not enough to get their hands on the cup . Despite being down 3-0 at halftime they clawed their way back into the game with goals from Alison Munnelly & Collette Collins but were denied by the final whistle as Manulla were crowned champs.

04/07/10
Big Away win for Mens team
Killala kept their 100% away record intact in Achill last night when a 4-0 drubbing of the home side gave them the 3 points they needed to stay top of the league. A brace a piece from strike partners Rory Gallagher and Johnny McNulty keeps the season on track for the lads.…read more
03/07/10
Good Luck to San Marino Girls as well !
The Killala FC Girls depart for the San Marino Cup this Sunday night and play their first game on Tuesday at 11am Against CFF Clujana ( Romania) . Villa Marina ( Italy ) at 3pm Wednesday, Real Aglianise ( Italy) on Thursday 11.15 and Soccer Brianza ( Italy) on Friday at 5pm. If they qualify from their group the knockout games start on Saturday. We wish all the players and travelling party all the best.
03/07/10
Good Luck to U12 Girls
All at the club send good luck wishes to David and all the U12 Girls in their Cup Final at Milebush Park this Sunday at 1′45pm against Manulla . Bring back the Cup Girls !
02/07/10
Remaing fixtures for this week and next

Sat 3rd July U14 Girls (Cup Semi) v Manulla / Kilmore Courthouse St. 2:00pm KO
Sun 4th July U12 Girls
(

Cup Final

)
V Manulla in Milebush Bus leaves @ 12:00am KO
Mon 5th July U16 Boys V Ballina Town B Courthouse St. 7pm KO
Mon 5th July U12 Girls V Ballinrobe away bus leaves @ 4:40pm KO
Fri 9th July U13 Boys v Conn Rangers away bus leaves @ 6:10pm KO
Sat 10th july u14 Boys v Straid & Foxford away bus leaves @ tbc
02/07/10
Mens Team book place in decider
A Rory Gallagher penalty was enough to decide the Tonra Cup semi final at Courthouse St. last night. In a tight match it was Killala who had all the clearcut chances with Knock/ Kiltimagh only ever threatening from set pieces so it was left to Gallagher to seal it for the holders from the spot. Killala now face Moy Villa in the final in Milebush Park on Sunday 18th July.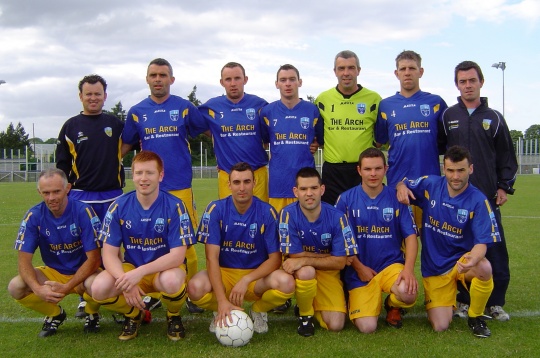 01/07/10
Semi Final night
The mens team play a repeat of last years Tonra Cup semi fina tonight when they host Knock/Kiltimagh Utd. The visitors have been having an indifferent league season but are terrific cup battlers so a great match is insured. Good luck to Johnny & Mark and all the lads and lets hope they repeat last seasons result.
30/06/10
O'Boyle Hatrick fires U14 Boys Top of the pile
A 3 goal blast by Darragh O'Boyle was enough to put the Killala lads back into pole position in division 3 at Celtic Park last night. The local C team were no match for the visitors who now have 2 games left to clinch the title.
..read more
29/06/10
A great crowd turned up on Sunday last in Killala to welcome home Aileen Gilroy from her European Championship exploits. She proudly showed off her European Silver medal to all. Well Done Aileen.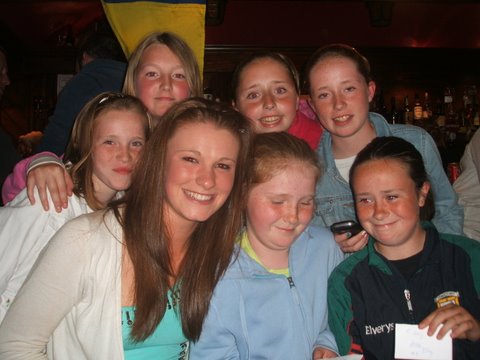 28/06/10
U12 Girls into the Cup Final
The U12 Girls qualified for a repeat of last years Cup Final when they will play Manulla next Sunday 4th July at 1.45pm in Milebush Park. In a thrilling semi final in Courthouse St on Sunday they beat Kilmore 5-3 on penalties after the game was ties 2-2 AET. We wish David and all the girls the very best of luck.
28/06/10
Mens team drop 3 home points
The mens team were beaten at home on Sunday by Conn Rangers in a local derby. Showing none of the hunger of the previous week they allowed the visitors to boss them all over the pitch and eventually ran out 3-0 losers
….read more