11/09/09
Killala U14 Boys presented with shield
The U14 boys finaly got there hands on their silverware as they were presenented with their shield tonight by Christy Rowland from the Mayo league congratulations again to all the U14 Players and Coaches.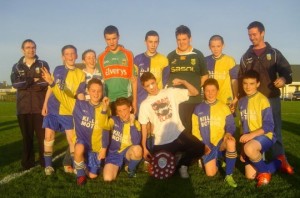 Lets hope this is only the first piece of silverware to be presented this week!! Good luck to all the U16 Girls, Ciara McDonnell their Coach and backroom staff Peter McDonnell from all the coaches, players and committee members at Killala AFC.
10/09/09
Supporters Bus For Cup Final
Donnellys bus will leave from outside the Arch Bar on Sunday at 1.30pm. €5 for children and €10 for adults . Admission to the match in Celtic Park is€5 ,children free.
09/09/09
Aileen all set for Italian job
Killala U16 player Aileen Gilroy set out for to Dublin today to take her place in the Irish international U17 Squad to face Italy on Thursday and Saturday….read more
08/09/09
CHAMPIONS AGAIN!
The Girls U16 team wrapped up the Premier division title for the second successive season when they beat Kilmore 11-0 tonight at Courthouse St. for their eigth straight win in the league .Goals fromEileen Collins,(7) Alanna Naughton (2) Karen Lawlor and Rachel Healy gave the girls the points and was the perfect warm up for the WFAI U16 Cup Final on Sunday….read more
07/09/09
U16 Boys sign off with a win
The U16 boys team deafeated Claremorriss B 3-2 Away from home on Monday night to give Brian McHale and his assistant Aidan Sweeney a win in their final league match of the season…..read more