07/09/09
Fixtures for the coming week
Mon.7th Sept U16 Boys Away to Claremorris 6.30 KO Bus leaves 5pm
Tuesday 8th Sept. U16 Girls Home to Kilmore FC 6.30pm KO
Friday 11th Sept U13 Boys Home to Iorras Aonthaithe 6.30pm KO
Sunday 13th Sept U16 Girls WFAI Cup Final V Stella Maris FC Celtic Park, Castlebar 3.00pm KO
06/09/09
Mens team snatch a valuable point in Achill
A mens team missing 8 regulars travelled to pace setters Achill Rovers and snatched a point when Peter McDonnell scored when he curled home a wind assisted corner..read more
06/09/09
Ladies come out worst in 9 goal thriller
The Killala ladies went down 5-4 in the Texoil cup quarter Final to Castlebar Celtic at Celtic Park today despite twice taking the lead…read more
05/09/09
Aileen Gilroy included in the U17 Irish Squad
Congrats to Ailleen Gilroy who has been named in the Ireland U17 Squad for matches in Dublin against Italy next Thursday and Saturday as they contine their prepatations for the 2010 UEFA Championships. All at the club wish her well.
04/09/09
Defib Update
A defibrillater users course was run this Thurs evening at our Clubhouse.The course covered CPR, defib operation and how to stop choking. 6 members of our club attended and successfully completed this American Heart foundation accerdited course, the course was delivered by Siobhan Henry of the Civil Defence. All participants agreed that while they hope they never have to use their training in a real life situation, if the need arises, then the skills they learned on the course could make a difference and save a life.
Congratulations to all participants on achieving there certification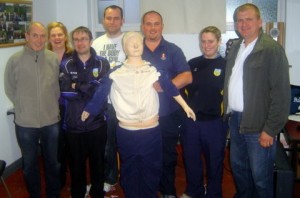 pictured L/R Joe O'Neill, Sioban Henry (Instructor) Aidan Sweeney, Tony Browne, Resusci Annie, Ivan Sweeney, Karen Webb, Dessie O'Boyle
We are expecting delivery of our new defibrillator in a week or so, so watch out for the next update.
02/09/09
U16 Girls go 5 points clear
The Killala girls extended their lead at the top of the Premier division when beating second place Ballyvarry Blue Bombers 7-1 at Ballyvarry last night. With only 3 games remaining and all at home it's looking good for the girls.….read more