"Fibs for Fones a Great Success"
Joe O'Neill and Ivan Sweeney attended a presentation last Thurs night in the Gateway hotel Swinford on behalf of our club and along with 54 other organisations were presented with a certificate for succesfully participating in the "Fibs for Fones" campaign.
Speakers on the night Paul Claffey (Midwest Radio) & Brendan Chambers (C&C Cellular) spoke of the of the eminence success the promotion had been and thanked everyone envolved from the organisers and collectors to everyone who donated.
6 volunteers have been selected to do the defib training course and this is expected to be completed within the next month. Once the training is complete we will be presented with our defibulator. Once again our club wishes to sincerly thank everyone who supported our campaign.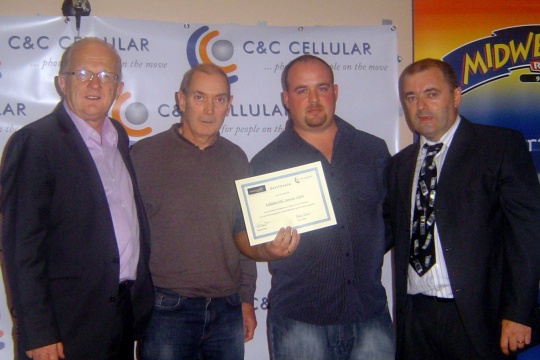 L/R: Paul Claffey (Midwest Radio) Joe O'Neill, Ivan Sweeney, Brendan Chambers (C&C Cellular)
26/07/09
Fixtures for the Coming week;
Monday 27th U16 Boys V Snugboro Away 7.00 ko Bus Leaves 5.30pm
Tuesday 28th July U16 Girls V Kilmore Away 7.00pm KO Bus leaves 5.15pm
Saturday 1st August U14 Girl V Castlebar Utd Home 7.00pm KO
Sunday 2nd August Ladies v Westport Utd Away 12noon KO
Sunday 2nd August Tonra Cup Final , Milebush Park Castlebar 4.30pm KO Killala V Ballyglass
26/07/09
Preperations going well for Cup Final
The mens team have only a week to go until they face Ballyglass in the Tonra Cup final ( Sunday 2nd august KO 4.30pm ). Training is reported to be going well and injuries to Marc McDonnell, David Cadden and Eamonn Knox have cleared up but there are still doubts about Richard Lynn and Lee Cummins. Masita ( Ireland ) Ltd have sponsored a new kit for the final and the new club leisure wear by Masita is now available .
26/07/09
Ladies Win Again
The Ladies team picked up 3 points at Conway Park, Snugboro on Sunday beating the local United side 3 -1.….MORE
22/07/09
Killala Girls make it three in row
The U16 girls made it 3 wins out of 3 with a good 6-1 over Ballina Town at Belleek last night …… more
21/07/09
Lotto Reaches €11,000
The Killala FC lotto is now at €11,000, just enough to have a nice holiday and have some left for Christmas so buy your tickets now from any club member or play online .More……..
21/07/09
Killala Girls miss out in Shoot out
Girls u12 Cup Semi final Manulla 2 Killala 2 AET Manulla Win 3-2 on penalties
A late equalising goal by the home side forced the game into extra time as goals by Collette Collins and Keeley Bruce gave Killala the lead. The Killala girls had chances to snatch it in extra time but it went to the dreaded shoot out where it was Manulla who came out on top. We wish them luck in the Final.