125 celebration take place this weekend, the 25th and 26th October. Following mass in Rockfield church on Saturday 25th October at 9pm, a function will take place in the Mountain Inn. A legends game between the 2005 and current senior panel will take place on Sunday 26th, in Nace O Dowd park at 2pm , also taking place are Exibition games with all our underage players, commencing at 12.15pm. Afterwards in St.Nathy's Hall from 1pm to 4pm club photographs and memorabilia from the past will be on display. This is followed on Sunday night by a Gala Dinner Dance, in the Sligo Park Hotel. Tickets are 35 euro and 25 euro for students, and are now available from Joanne O Grady, Mary Davey or any commitee member.
To commenorate the 125th anniversary of the foundation of the club, the club are delighted to introduce the Coolaney/Mullinabreena "O'Neills" 125 Official Sportswear Range, now available to order. All sizes available from children to adult. The ideal Christmas Gift!! Official launch will take place at the 125 Gala Dinner Dance on 26th October. Log onto our official club website at www.coolaneymullinabreena.com to view all gear that is available.
Thank you to Ocean FM for their excellent programme on our club and the 125 celebrations which was broadcasteded last Sunday evening on the airwaves. Also, a big thank you to all our members who took part.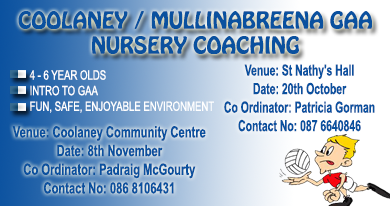 The Club is running a nursery programme for young children in Coolaney and Mullinabreena, the programmme starts in St.Nathy's Hall on Monday 20th October at 6.30pm, and in the Community centre, Coolaney on Saturday 8th November at 11.00am. The nursery is designed to cater for children born in 2008,2009 and 2010, and will introduce children to the Skills of Gaelic games in a fun, safe and enjoyable way. The camp will run for six weeks in both venues. Any interested parents can contact programme Co ordinators, Patricia Gorman 087 6640846 or Padraig McGourty 086 8106431. ​
The senior team league play off takes place this Saturday evening against Shamrock Gaels in Tourlestrane at 6pm.
The Junior team were defeated in the B championship final last weekend by Eastern Harps, the fulltime score was 1-7 to 1-10.
The September lotto draw Jackpot 1800 euro, numbers 17, 21, 24, 34. No Winner, Match 3 winners, Jerry O'Grady, Coolaney and Pierce Maloney, Coolaney.​
The Clubs AGM will take place on Sunday, 23rd November at 7pm in St Nathy's Hall. All nominations for club executive positions and motions to be with the club secretary, Leo Coleman no later than the November monthly meeting, which will take place on the 3rd November in Coolaney Community Centre at 9pm.